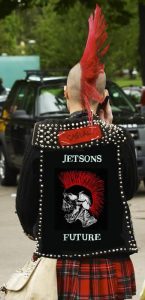 So, Clear Channel Communications is now iHeart Media. The single biggest operator in radio just nailed it.
When it's not just your company that's changing massively, but your entire brand, a fresh coat of paint is an extremely good idea. Given that (1) media convergence in a digital environment is driving that change, (2) Clear's digital initiatives have been built around the iHeart brand, and (3) our media convergence era means that our current types of media – television, radio, film, print – are becoming one thing called "media", what better name could there be for the company than iHeartMedia?
Let's walk through it all as quickly as possible.
Step One: We're heading to The Jetsons Future. It's a future where – just like the 25-year cartoon series – giant screens inhabit every room in our homes. Smaller screens sit in our hands (in the form of tablets), in our pockets (on our cell phones), in our connected dashboards, and they're moving on to our wrists (and glasses). Like George Jetson and his clan, we'll be using those screens for everything from consuming entertainment content to making phone calls to doing our banking and ordering dinner.
What's delivering content to all those screens? It isn't big sticks sitting on top of mountains – y'know, broadcast transmitters. It isn't giant cables running under our carpet. In The Jetsons Future, content will be delivered by what we now call broadband internet.
Step Two: Media converges. We still – more or less – have three types of media:
Audiovisual content: That's content with video and audio, including feature films, television, YouTube videos, etc.
Audio-only content: That's radio content – both talk radio and music-oriented radio – but it's also music and most podcasts.
Print content: Newspapers, magazines, books, and any other medium featuring the written word and photographs.
When content is being delivered to many devices whose main distinguishing characteristics are (1) screen size and quality and (2) the amount of memory and type of processor the device possesses, the boundaries between types of content disappear.
Here's the website of a great radio station.  Interesting observation: the "radio station" has a lot of content on its website, very little of which is audio-only content.  It has audiovisual content.  It has plenty of content that is, by traditional definitions, "print" content.  Similarly, here's a great print website.  Not long ago, a newspaper featured text and a few fixed photographs.  Now, when I go to the website or open the newspaper's app on my tablet or phone, I can scroll through non-fixed photos, meaning I can see slide shows where once only a single photo would have been visible. Oh, and I can watch plenty of documentary videos.
Step Three: Content – and the system for developing it – is changing. Whatever kind of content you think you make, you need to realize this: you're competing with all three types of content, and if you're not already creating all three types of content yourself, you certainly should be.
The most important words for any content creator to remember in The Jetsons Future: "The medium is the message."  —Marshall McLuhan
How your content is delivered to, and consumed by, your users is inextricably intertwined with the content itself. I absolutely love a speech Kevin Spacey gave last year because he really nailed the impact of The Jetsons Future on traditional TV and film. Summed up:
Picture the death of the traditional, annual pilot system.
Imagine a lot more short-form video.
Great stories still mean everything, whether you tell them on the radio, in a movie, on television, or in print.  (Bear in mind, of course, that you now need to tell those great stories through all of those media.)
Step Four: Opportunity arises! Talent can build a brand and a career in all sorts of interesting places. If you're talent, and you look around the media world with an open mind, opportunities have never been bigger. Even huge stars are "leaving television" in order to have greater access to audience. Better still, the barriers to entry have collapsed, and if you're great talent, you can get in the game easily and cheaply.
When the Rupert Murdochs of the world make it clear that content in this new world is everything, you should believe them. Frankly, this is a recurring story that goes back to the 1950's.
Step Five: The Jetsons Future arrives. It's pulling into the station now. How quickly will it get here? Media history serves as a pretty good guide on that point as well.
The now-former Clear Channel has been doing deals that recognize the digital future for some time now. They've been building so much of their marketing around the iHeart brand for some time now.Why? Because they see The Jetsons Future arriving. Other companies are doing so as well, of course, but I do think the new iHeartMedia has been doing it much more completely.
Today's company rebranding simply codifies their vision of the future.
More important for you, the content creator, are these thoughts, which should be clearer today than ever before:
When Rupert Murdoch makes it clear that content is everything, believe him. When the single biggest operator in radio makes it, er, clear where the future lies, believe them.
It's never been easier for you to expose your brilliant creative ideas to the world and to make money – lots of it – from them.
To borrow from perhaps the best people in the world at overcoming anything – the United States Marines – this is the time to improvise, adapt, overcome.
Go!