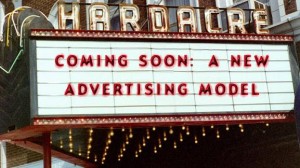 Media convergence: it's a trip through the looking glass for everyone and everything associated with entertainment and media, including advertisers.
What used to be important is becoming less and less so every day. Rushing into the vacuum that used to be filled by only the biggest entertainment players is…well…anyone with a great idea and the talent to communicate it.
You should take advantage of that trend. Now.
As he usually does, Mark Ramsey absolutely nails the big news of the media week, the announcement that Disney is shopping 23 of its 24 Radio Disney O&O's, noting that The Mouse can afford to get out of the media house because it can monetize its Radio Disney content without distributing it via terrestrial radio. A handful of years ago, that would have sounded crazy; today, it causes – at most – a slightly arched eyebrow. Yet, the underlying trend goes a lot deeper than that.
So much about content has a funhouse mirror feel to it these days.
We've duly noted more and more talent rising to fame on, among other places, YouTube, not to mention Vine, which can propel an "unknown" 16 year-old to #1 status on iTunes in under an hour. Now, new categories of entertainment content are doing likewise.
Did you ever think that unboxing videos – content in which a talking handmodel opens product packaging – would become a thing? Look – one of the stars of the genre is closing in on 3 billion (yes, with a b) views and is approaching eight figures a year in income. (Talk about taking advantage of an opportunity! DisneyCollector doesn't have to conceptualize content. Disney creates the ideas for her, reaping free advertising  – coming up on 3,000,000,000 impressions – from target customers, no less – in the bargain.)
Meanwhile, a new web app allows you to buy clothing modeled by celebrities on Instagram. Pretty Little Liars' Shay Mitchell is among the hawkers, er, models, dropping her #OOTS – Outfit Of The Shay – on her 4+ million followers. Like what she's wearing on Instagram? Buy it with a few clicks.
One obvious question then is this: how long before Facebook, Twitter, YouTube, etc. drop the ultimate bomb on the advertising party by sticking "Buy It Now" buttons in the appropriate places? The answer: not long at all.
Any more examples of these trends would, at this point, be overkill. Here are the important absolutely critical questions:
If you're in advertising – whether you're in media, an agency, or whatever – what are you doing to respond to this development? When Disney can get 90 million free views on one DisneyCollector video, what does that do to their ad spend (and your share of it)? When influencers can sell clothing directly to their fans, how relevant is advertising in fashionista media?
And once again, if you're a creative, how can you take advantage of the seemingly endless opportunities before you? In 2014, you don't have to star on a TV series to become an influencer. At this point, you can be a teenager and get your own fashion line at, say, Aéropostale.
Hold on. I want to put that in perspective for you. Among the notables with their own clothing lines: Beyonce, Sarah Jessica Parker, Diddy, Victoria Beckham, Justin Timberlake, and…Bethany Mota.
In The Jetsons Future, you don't need to be a star – an influencer – to carve out a great future for yourself. Of course, if you've already got a little (or a lot) of influence, you just might want to take advantage of it while you can.
In broadcast, we teach professional communicators to deliver their message in a one-to-one manner, as if talking to a single person. Perhaps that's why I often find myself thinking about one person – sometimes a client, sometimes a professional friend – when I write one of these posts. This go-round, I can see so many faces in my mind's eye that I can't even begin to narrow my audience down to one person (or even one state). I'll just say this: if you think I'm talking to you, you're right. And as I prepare for vacation – an off-topic post is on the way – I leave my target audience with this:
You're smart. You're creative. You're charismatic. How are you going to create and exploit your niche in this amazing entertainment world we now inhabit?