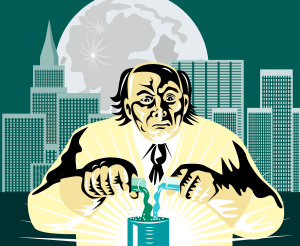 Let's talk about one of my favorite types of people: mad scientists.
In an era of massive change in entertainment and media, it is the crazed experimenters who will develop successful products, and you don't have to be one solitary scientist sitting in your underground lair in order to cook up an exotic new compound that bubbles over into something powerful, though that's often how great new ideas and products are developed.
In fact, you can be a big, presumably cumbersome corporate entity and still play mad scientist. Let's talk about two of my favorite mad scientists of the moment.
It's pretty great to see a company like NBCUniversal really getting it. With SeeSo – the comedy service complete with multiple original series – launched, NBCU is now indicating that sixish more niche channels are in development. Let's highlight one sentence from NBCU's Evan Shapiro in talking about SeeSo's target audience: "That's a psychographic that's hungry for new comedy voices."
Actually, let's highlight one word: psychographic.
If it seems like we've been talking about broadcasting being replaced by narrowcasting for decades, it's because we have. Yet, it's only been in the last few years that narrowcasting has truly begun to take hold. When you're selling advertising to mass buyers, you need to be broad, but when you're selling subscriptions to people who've cut the internet cord, you've got to inspire passion, and you do that by focusing on distinct psychographic groups. (And if you're really lucky, the distinct psychographic group you're targeting is pretty large, like comedy nerds.)
Whether you're a huge corporation or a solitary content creator, focus on a group of fans who are passionate about something specific – in other words, a unique psychographic – and there's fertile ground for you in The Jetsons Future. That's been a recipe for ridiculous success for Pewdiepie, DisneyCollector, and plenty of others, and it can be yours too.
One last note on why NBCU's experiments are moving in the right direction, read this quote from CEO Steve Burke: "This isn't like manufacturing. It's about talent. If you get that wrong, the whole enterprise goes bad very quickly." NBCU, as part of Comcast, is a huge conglomerate, but the company is smart enough to understand that talent is the key to its success. Pretty dang impressive, but there's more.
Y'see, there's a subtext to what Mr. Burke said: if you're talent – and you use your talent the right way – you have an enterprise that just might go well, perhaps very quickly.
So, now on to one of my favorite science labs. In these parts, I've already been plenty effusive in my praise of the New York Times and for good reason: if there's any media entity that should be overwhelmed with inertia, it's the Gray Lady, and yet the Times keeps playing mad scientist.
A few months ago, the NYT rolled out a news team that's focused on trending internet topics, which, it goes without saying, a printed-once-daily newspaper would have no interest in.
So far, the big pushback seems to be coming from Times readers who think the paper should never cover anything that isn't deadly serious. As a deadly serious Times digital subscriber, I have a message for the complainers: over the last 12 months, The Dress had far more societal impact than Martin O'Malley or half of the Republican presidential field. The reality is that trending internet topics may not feel as weighty as, say, the 2016 presidential campaign or a nuclear deal with Iran, but those topics influence the average consumer tremendously.
In an era of media convergence – an era when print, radio, television, and film are all rolling into one big ball we call "media" – you and I have already discussed everything from vertical video to the need for talent to learn how to cover all the media bases. In that spirit, we should also be watching the Times' moves into virtual reality very closely, particularly given that there's at least one website already devoted to news delivered via VR, and given how affordable Google Cardboard is, this is an idea that's plenty accessible..
Does the whole news via virtual reality experiment sound a little weird to you?
Great! Every mad science experiment should sound weird at first.
To sum up, what are the lessons of these madcap experiments:
If institutional, corporate behemoths are taking chances and experimenting in a big way, you should be doing likewise.
Things that sound weird today just might be normal tomorrow.  (Remember when it seemed weird that Dick Tracy could access the entire world from his wrist while Maxwell Smart kept a phone in his shoe?)
Great content starts with great talent.
If you're a great creative talent, you've got all you need to engage in a little weird science yourself.