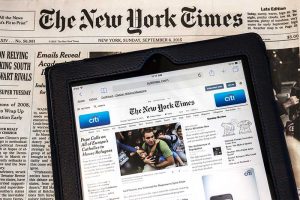 One of the more remarkable things I've read lately is a piece that showed up in the New York Times last week in which Dean Baquet, the Times' Executive Editor, answers questions from readers about changes to the way The Gray Lady is restructuring her editorial department, eliminating the copy desk and shedding some editors in the process. You should read it, and if you do, feel free to spend most of your time reading between the lines.
There are two really important takeaways from the piece.
First, he repeatedly makes the exact same point that I've been making ad nauseum for years: being excellent at creating one type of content isn't good enough any more – not for content companies and not for talent.
In discussing the motivation for the Times' structural changes, he says things like:
"If the Supreme Court issues a major ruling at 10 a.m., our readers expect to hear about it within minutes. And they'd like an analysis not too long afterward. And maybe a video on the history of the case that led to the ruling. Or a multimedia analysis of what the ruling says about the court's leanings so far."
"[W]e have to change our editing system to accommodate the changes in journalism. And we have to hire more journalists who can do all the tasks I just described."
"[O]ur current editing system was designed generations ago for the rhythms of print alone . . . [W]e are [now] producing different kinds of journalism besides traditional stories. We produce video, and multimedia graphics, as well as spot news published as soon as news breaks. And our readers experience us on the phone, not just in print and on the computer."
"It is painful, but we can't build a future without shedding some of the past. That's the way the great newspapers have survived. We are a reflection of the times we live in." (emphasis added)
Translation: The medium is the message. The medium has changed – from static printed paper to computers, tablets and phones. The messages (and messengers) must adapt and change with the medium.
Said differently, media has converged. You may think you work in radio, TV, film, print, whatever.
You don't. You work in media.
You might specialize in one kind of media – print, audiovisual, audio-only – but you'd better be able to deliver some combination of all three.
That's true whether you're a large content-creating business or an individual content creator.
Content creators need to broaden their skill sets. If you're not convinced about that, here's a final note for you. Asked, "Was it ever considered by the leadership at the NYTimes to simply train the current [downsized] copy editors on video and web design," his response says it all: "We are in fact providing extensive training to editors and others. We have created a team to train journalists for the future. And, yes, some copy editors have grabbed hold of the training and are learning new skills."
Left unsaid is this: sadly, some did not, could not, or would not.
And now, for the other huge takeaway, and while it's right there in front of you, it's really easy to miss. Let's play question and answer time.
Q: Who's asking the questions in this piece?
A: The readers, or, to say it more accurately, the New York Times' biggest fans, the ones who truly pay attention to the "newspaper" and who care enough about its product to thoughtfully participate in a Q&A with someone like Dean Baquet. (They're also the people willing to pay for the NYT's content.)
Q: Who's answering the questions?
A: The Executive Editor, aka The Head of Content.
Oh, and this isn't some ordinary Executive Editor. This is a Pulitzer Prize-winning investigative reporter turned senior executive who's spent the vast majority of his career at the New York Times, Los Angeles Times, and the Chicago Tribune.
See where I'm going here? The person in the corner office – an industry titan if ever there was one – is answering to the fans. Shouldn't he be spending time enjoying the view from his presumably luxuriously-appointed office balcony or getting his hands dirty with his inked-stained wretches?
He's smart enough to know that there are no better things to do, especially today, than to engage with – and answer to – the fans of "his" content.  Today, times have changed (as has The Times, of course), and if you're the boss, you'd better be prepared to have a personal relationship with your fans.
He even makes this point himself. When a reader observes that the NYT's former Public Editor, sort of an ombudsman for readers (a position that's been eliminated), would have answered these questions on behalf of the paper, he answers, "I actually think it is healthier for me to have to answer these questions. I value our readers. It is good for me to speak directly to them."
All of us in the content business are really in the relationship business. No matter how huge your business, your most loyal – and most important – fans want a relationship with everyone involved in making the content they love, including the person in the plushly-appointed corner suite.
The best radio people have always been good at this. (After all, we're the grass roots of entertainment.) The best directors and show runners have typically been good at this. (Check any year's Comic-Con schedule for proof of that.)
Have you?