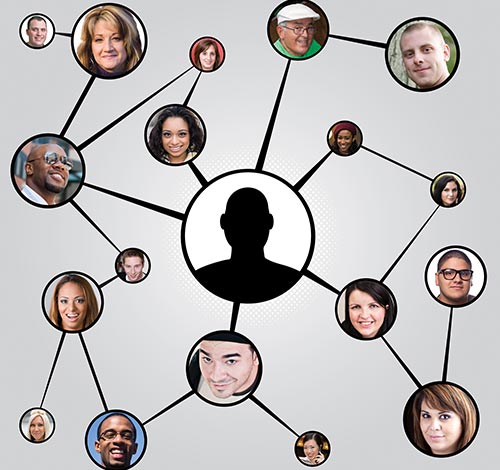 In these parts, we refer to "content" all the time. It's not a misnomer; content is a business word, and after all, we're in show business.  It is, however, a poor choice of words, given that "content" is a totally non-emotional word, and emotion and connection are what make show business different from every other business.
Oops, I'm wrong. Emotion and connection are what makes the difference between success and failure in every business. (What motivates people to hire an accountant or stockbroker? Is it because they're a great golfer? Nope. It's because of that emotion known as security that goes with knowing that somebody who you trust is minding your money.)
The difference between accountants and entertainers is this: most people don't identify with their accountant; they identify rather strongly with their favorite entertainers. That's why accountants (and lawyers) have clients, while entertainers have fans. (It's also why, if we're smart, we try very hard to turn our clients into fans.) The emotional reaction you get from your financial adviser is focused on you – you feel secure because your money is safe or growing (at least you hope it is). The emotional reaction you get from entertainment is focused on the entertainer – you feel connected to that person, their performance and their, er, content.
Let's look at a few examples of that:
This story about Lucasfilm's relationship with Star Wars fans is awesome! Whether it's writing a stunningly sweet and personal reply to a seven year-old fan or sending fan relations staff with 200 pizzas to feed fans who show up 36 hours before a Star Wars convention, this much is clear: Lucasfilm understands that its relationship with fans is a two-way street. Yes, Star Wars content has, for 38 years now, created a stunningly passionate reaction with fans that has given Lucasfilm a license to print money. However, the company also understands that returning that passion is a powerful (and beneficial) thing.
If you don't believe that, read this letter and response. Someone took the time to compose an intensely thoughtful and emotional response to one seven year-old fan. Lucasfilm returned passion with passion. In doing that sort of thing again and again, Lucasfilm builds relationships – incredibly powerful ones – with Star Wars fans.
I have a friend who does that. If you've ever worked with rock music as a radio programmer or a concert promoter, you probably think of Gary Hoey as your friend. Gary's built an eminently successful career on two things: great talent (of course) and great relationships. If you're a friend who wants to hang out with Gary after a concert, you quickly learn to be prepared to sit in the dark corner of a bar or concert venue until 1:30am or so. He's not about to leave until he's signed every autograph, taken every picture, and talked to every fan who's waited by his merch booth to meet him.
Gary's got fans who are exceptionally passionate about his music, and he's equally passionate about repaying their support of his career. When that's done, he goes on to the next town and gets into a radio station at 7 or 8am to promote his work and repay the support he gets from radio stations all over the country. He's been on a first-name basis with most of the people at those radio stations for years decades. Gary repays passion with passion, building relationships both with his fans and with the people who help him grow his career. Unlike Star Wars, Gary's career is much briefer – he's only been a national recording artist for 24 years.
Last stop: let's meet a guy who's been at it longer than Lucasfilm and Gary combined: my Uncle Vin. I've called him that since I first met him in the early 1970's…even though he has no idea I exist. If you're a baseball fan, you've already figured out that I'm talking about a legend, Vin Scully. How much passion does the man inspire? SABR – the numbers people, the ones behind the advancement of statistical analysis of baseball – proclaimed him the greatest Dodger Lefty of all time, over some guy named Koufax, even though he has no "numbers" to analyze.
Actually, there's one number attached to Vin Scully: 66. That's how many seasons he's been calling Dodger baseball. There may be nothing more amazing in entertainment than looking at a list of Dodger broadcasters since 1939. The team has had three lead broadcasters. Ever.
I refer to him as Uncle Vin because I'm connected to him. He's been the soundtrack of my summer ever since I was brought, against my will, from New Orleans to L.A. in 1971, kidnapped by two determined foes calling themselves "Mom" and "Dad". I'm hardly alone. The meltdown in Los Angeles when his inevitable retirement becomes reality – hopefully not for another couple decades – will be cataclysmic. Why?
Let's explain that with two quotes:
From a fan: ""He's like the father of the Dodgers. He's what I grew up on. If it's Vin Scully, we all listen to what he has to say."
From Uncle Vin: "When I was calling football, we'd be in a production meeting, and the producer would say, 'This game is going to 70 percent of the country.' And I'd say, 'I don't want to hear that.' … To me, I'm always talking to 100 percent of the audience — and every game is like the World Series."
Vin Scully returns passion with passion. Whether he's talking to you about a rookie infielder in 2015 or about the '55 World Series, you know he loves what he's doing. He's so passionate about baseball – and his fans – that it's just not possible for him to treat any event like it's anything other than the most important event of all time. The "content" that he creates isn't descriptions of baseball events; it's the passionate celebration of that day's baseball game and his 66 years of calling baseball games, and he's committed to always respecting his audience's time, treating every single game like it's the most important one of his career. 66 years of that will build quite the relationship, won't it?
We'll continue to use the word "content" because talking about "great content" is easier to understand than talking about "great passion and relationships". Make no mistake about one thing, however: your material is not your stock-in-trade.  Content is simply a means to an end.
Your stock-in-trade is passion and relationships. 
Great content is the starting point for building passionate relationships. Don't ever settle for creating "filler" or mediocre content. Be like Vin Scully, and treat everything you create like it's your World Series. Then, after you take the time to make your content great, take even more time to make your relationships great.
Your fans deserve it, and so do you.