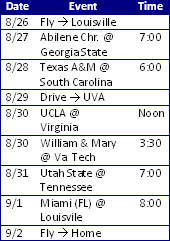 The itinerary for Football Trip 2014
It's summer, meaning it's time to take a little vacation from what we usually do. In fact, there's scientific backing for the proposition that our brains – and particularly our creative brains – regularly need the reset that comes from vacation.
Over the last few years, I've attended more graduations than I can count at everything from high schools to major universities to law schools. There's one piece of advice that I heard every single graduation speaker give: have a hobby. Find something (or, better, some things) besides what you do for a living that you are passionate about.
When we get to the allegedly fully grown-up stage of life, it's easy to ditch that advice because work is just too dang important. That's a mistake.
So, FWIW, here's one of my hobbies: college football. I'm not just referring to the games, though I love those, but also to the whole culture that surrounds the events known as football games at colleges across America. I love getting to the tailgate parties hours before kickoff and interacting with everyone I can, getting a feel for each stadium and fan base.
I could tell you stories about my trips to Texas A&M, Nebraska, LSU, and on and on. I could tell you about the time I went to see Oregon and Oregon State play home games on the same day…as the remnants of a Pacific Ocean typhoon blew through Eugene and Corvallis. I've even found a way to attend two games at the same time. (Hint: it involves two Division 3 programs with stadiums a quarter-mile apart.)
At some point, as a member of the media, I ended up joining the Football Writers Association of America, and I regularly think about writing sports again just for fun. (Actually, last season, I wrote a weekly college football column that no one saw – except for me. I hadn't planned it, but on the Sunday morning of Week One, when I woke up and was in that haze between sleeping and starting the day, the column started writing itself, so I went with it.)
This year, when I saw my beloved UCLA Bruins opening up at Virginia, it was just a matter of how many more games I could squeeze in around that one. So…five games (plus however much of the Virginia Tech game I can catch while I'm driving from Charlottesville to Knoxville) in six days. There's also 1,700 miles of driving, a stop at a legendary Civil War battlefield, a visit to the Louisville Slugger Museum, and a family visit along the way.
Okay – I'll cop to it – there will also be some media business to be done, which is an automatic when you're traveling between lots of media markets. Sometimes, we even need to take a little vacation from our vacation. I'd tell you that I was going to blog about the trip from the road, but I learned long ago that I'm not about to slow down in order to write anything that doesn't involve time-critical business.
I'd very much enjoy hearing about what you do to help your brain reset. (Oh look! There's a Contact page on this here website.)
Here's hoping your summer includes some memorable time doing something you love.
This is Week One of the 2008 season, including Robert Griffin III's first college football game, the #1 pitch-and-catch duo in college football history to that time, Rice's Chase Clement & Jarret Dillard, and coaching debuts by Baylor's Art Briles, SMU's June Jones, Texas A&M's Mike Sherman, and…wait for it…UCLA's Rick Neuheisel.