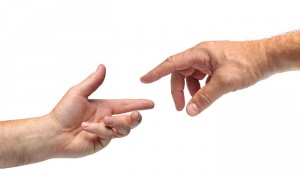 In entertainment, we like to talk about how we make "content", and technically, that's what we do. After all, content is a business word, and we're in show business. The problem is that "content" is a totally non-emotional word, and emotion and connection are what make show business different from every other business.
Right?
Wrong. Emotion and connection are what makes the difference between success and failure in every business. (What motivates people to hire an accountant or stockbroker? Is it because they're a great golfer? Nope. It's because of that emotion known as the feeling of security that goes with knowing that somebody who you trust is minding your money.)
Here's what makes showbiz different: most people don't identify with their accountant. On the other hand, they tend to identify rather strongly with their favorite entertainers.
Said differently, the emotional reaction you get from your financial adviser is focused on you – you feel secure because your money is safe or growing (at least you hope it is). The emotional reaction you get from entertainment is focused on the entertainer – you feel connected to that person, their performance and their, er, content.
That's why accountants (and lawyers) have clients, while entertainers have fans. (It's also why, if we're smart, we try very hard to turn our clients into fans.)
Since your relationships with your fans are focused on you, any time you make it clear to your fans you care about them – that they are not just a commodity to you – the bonds of those relationships are strengthened. Oh, and to state the (hopefully) obvious, the payback you get when you engage with your fans is usually pretty awesome.
Let's look at a few examples of entertainers who get it:
If you're looking for a place to start, the name Taylor Swift comes to mind. She's a veritable cottage industry of payback, so just check out a list from The Telegraph of some of her personal highlights. Or, if you'd prefer something more emotional, there's the time she gave some pretty serious advice to a bullying victim.
Oh sure, there's a business angle to all this, and she wouldn't be the star she is without a ton of great, er, content. That said, Taylor Swift knows that Swifties put a lot of emotion into their fandom, and she goes out of her way to pay that back. That's pretty impressive – and it's pretty smart.
When you think about making a personal connection, you think about all the fans looking to take pictures and videos with celebrities. A couple days ago, a Zac Efron fan dropped his phone, breaking it, while trying to do that. Efron stopped his car, made a slightly NSFW video with the fan, and…he bought him a $950 replacement phone, which is both generous and smart.
On the corporate side, I'm still amazed by Lucasfilm's relationship with Star Wars fans, such as in this letter and response between the company and a seven year-old fan. Star Wars has been a license to print money for four decades, and Lucasfilm is smart enough to plow some of that money into a fan relations staff that does stuff like showing up with 200 pizzas to feed fans who show up 36 hours before a Star Wars convention. The company understands that returning that passion is a powerful (and beneficial) thing.
Let's finish up with the ultimate relationship story, involving a young man who will, sadly, finally conclude his showbiz career this year after 67 years at the same job. If you're a baseball fan, you've already figured out that I'm talking about a legend, Vin Scully. How much passion does the man inspire? SABR – the numbers people, the ones behind the advancement of statistical analysis of baseball – proclaimed him the greatest Dodger Lefty of all time, over some guy named Koufax.
Side note: there may be nothing more amazing in entertainment than looking at a list of Dodger broadcasters since 1939. The team has had three lead broadcasters. Ever.
If you're a baseball fan in Southern California, Vin Scully has always been the soundtrack of your summer.
Actually, he' s more than that. He's a family member – I refer to him as Uncle Vin – as you can divine from these two quotes:
From a fan: ""He's like the father of the Dodgers. He's what I grew up on. If it's Vin Scully, we all listen to what he has to say."
From Uncle Vin: "When I was calling football, we'd be in a production meeting, and the producer would say, 'This game is going to 70 percent of the country.' And I'd say, 'I don't want to hear that.' . . . To me, I'm always talking to 100 percent of the audience — and every game is like the World Series."
Vin Scully returns passion with passion. Whether he's talking to you about a rookie infielder in 2016 or about the Brooklyn Dodgers only World Series win back in '55, you know he loves what he's doing. He's so passionate about baseball – and his fans – that it's just not possible for him to treat any event like it's anything other than the most important event of all time. The "content" that he creates isn't descriptions of baseball events; it's the passionate celebration of that day's baseball game and his 67 years of calling baseball games.
That commitment to the audience, treating every single broadcast over 67 years like it's the most important one of his career will build quite the relationship, won't it?
So sure, we'll continue to use the word "content" because talking about "great content" is easier to understand than talking about "great passion and relationships". Make no mistake about this, however: your material is not your stock-in-trade.  Content is simply a means to an end.
Your stock-in-trade is relationships. You build relationships by inspiring passion from your fans and by returning that passion to them. 
Great content is the starting point for building passionate relationships. Don't ever settle for creating "filler" or mediocre content. Be like Vin Scully, and treat everything you create like it's your World Series. Then, after you take the time to make your content great, take even more time to make your relationships great.
Your fans deserve it, and so do you.